What to See
Top 10 attractions and museums you should not miss in Brussels
Grand-Place
Often considered the most beautiful square in the world.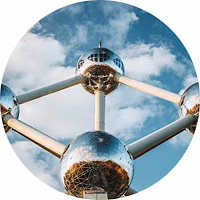 Atomium
The Atomium was designed and built for the Brussels World's Fair (1958) symbolizing the atomic age.
Manneken-Pis
The bronze statue is the embodiment of the rebellious spirit of Brussels.
The Bois de la Cambre
The Bois de la Cambre is a large park with laid out in English style.
Museum of the City of Brussels
The Brussels City Museum is located in the most famous area of the capital – the city's historic centre.
Museum of Natural Sciences
The largest Dinosaur Gallery in Europe is a must-see for children and adults.
Train World
Train World is a railway experience unlike any other.
Centre for Fine Arts – Bozar
An architectural masterpiece is situated right in the middle of the Mont des Arts.
Comics Art Museum
An accomplished attraction located in the heart of Brussels, the Comics Art Museum has been honouring the creators and heroes of the 9th Art for 30 years.
City of Brussels Town Hall
This gothic building is undoubtedly one of the most majestic town halls in the country.
More attractions and information what to see in Brussels could be find at visit.brussels.